This page lists upcoming and recent events that may be of interest to UNC Christian Faculty.
Upcoming events
Guest Speaker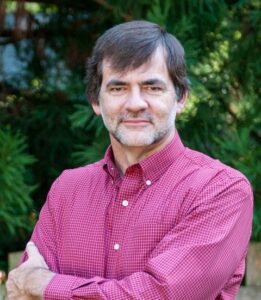 On Wednesday March 29, 2023 from 7:00 PM 8:15 PM, come spend the evening with psychiatrist and award-winning author Curt Thompson, MD. Dr. Thompson will be speaking on themes from his two most recent acclaimed books, The Soul of Shame: Retelling the Stories We Believe About Ourselves and The Soul of Desire: Discovering the Neuroscience of Longing, Beauty, and Community.
Dr. Thompson suggests that underneath all our longings is the desire to be known – and what's more, that this fundamental yearning manifests itself in our deep need to make things of beauty, revealing who we are to others. Desire and beauty go hand in hand.
But both our craving to be known and our ability to create beauty have been marred by trauma and shame, collapsing our imagination for what God has for us and blinding us to the possibility that beauty could ever emerge from our ashes. Drawing on his work in interpersonal neurobiology and clinical practice, Thompson presents a powerful picture of the capacity of the believing community to reshape our imaginations, hold our desires and griefs together, and invite us into the beauty of God's presence.
Visit The Soul of Shame, the Role of Therapy, and the Power of the Gospel to sign up for in-person and Zoom registration.
Past events
Guest Speaker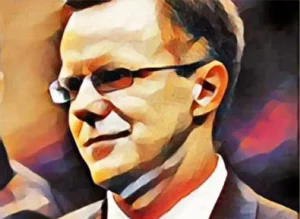 On Thursday, February 16th, 2023 distinguished UNC alumnus Mr. Matthew T. Martens will speak on the topic of Reforming Criminal Justice: A Christian Proposal. This event is being cosponsored by the North Carolina Study Center, InterVarsity Faculty Ministries, and the UNC Christian Legal Society.
Drawing from his 25-year experience as a federal prosecutor and defense attorney, Martens contends that by bettering our understanding of how our current system operates and considering how love of neighbor relates to issues of crime and justice, we will be better equipped to seek true Christian reform of the justice system.
To RSVP to attend in person, use this link. To RSVP to attend via Zoom, use this link. For more information, email matt@ncstudycenter.org.
Speaker Bio: Matthew T. Martens graduated first in his class from the UNC School of Law (J.D., '96), followed by two years serving as a law clerk for a federal court of appeals judge and then to Chief Justice William H. Rehnquist at the US Supreme Court. He's worked as a federal prosecutor (9 years), a criminal defense attorney (11 years), and is currently a partner in the Washington, DC office of WilmerHale, one of the world's largest law firms. He holds a Master's in Biblical Studies from Dallas Theological Seminary ('10) and is the author of the forthcoming book Reforming Criminal Justice: A Christian Proposal (Crossway, 2023).
Guest Speaker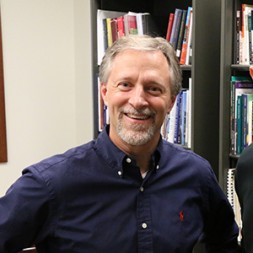 On Tuesday, October 4th 2022 at 5:30 PM the North Carolina Study Center will host a session with special guest Dr. Perry L. Glanzer: What is the University For? Truth-Seeking, Student Formation, and the Scholar's Vocation.
For more information, and to RSVP to attend in person or via Zoom, click this link.
Regional InterVarsity Faculty Conference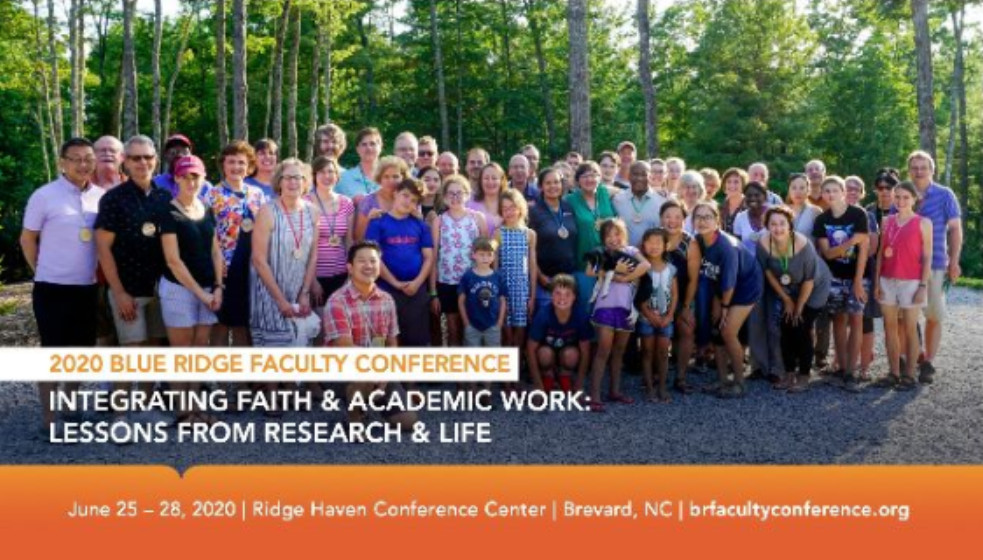 You're invited to join us Jun 25-28, 2020. All faculty are welcome. Spouses and children are also invited to attend.  Sessions will cover the following topics:
Bringing faith into work
Bringing academic work outside the university
Spiritual practices for faculty in the busy workplace
Click here for more conference details. 
Christianity in Conversation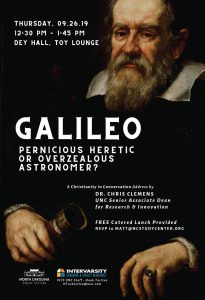 This academic year, InterVarsity Christian Fellowship's Faculty Ministry is partnering with the North Carolina Study Center to host a few lunchtime lectures on campus primarily for faculty. We expect interested graduate students to attend as well as interested undergrads who might be more academically inclined. We have two lectures scheduled for this semester in Dey Hall's Toy Lounge. We will be providing lunch and you are welcome to invite colleagues. The lecture series is entitled Christianity in Conversation and Dr. Chris Clemens will be our first speaker on Thursday 9/26/2019 from 12:30-1:45 in Dey Hall, Toy Lounge. There is a free catered lunch provided; RSVP to matt@ncstudycenter.org.
Regional InterVarsity Faculty Conference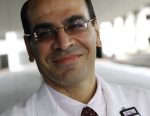 You're invited to join us June 27 – June 30, 2019 for the Third Annual Blue Ridge Faculty Conference with the theme of Reality, Truth, and Beauty: Faith and the Pursuit of Authenticity.
The 2019 faculty retreat aims to focus us on the centrality and commonalities of human quests, cutting across academic, artistic, and spiritual pursuits, with the hope that we can all be more authentically centered in what we do as believers called to His purposes in the world.
Our guest speaker is Dr. Ehsan Samei, a Persian-American medical physicist and a tenured Professor of Radiology, Medical Physics, Biomedical Engineering, Physics, and Electrical and Computer Engineering at Duke University. He is an imaging scientist with an active interest in bridging the gap between scientific scholarship and clinical practice.
The Lives and Legacy of Billy and Ruth Graham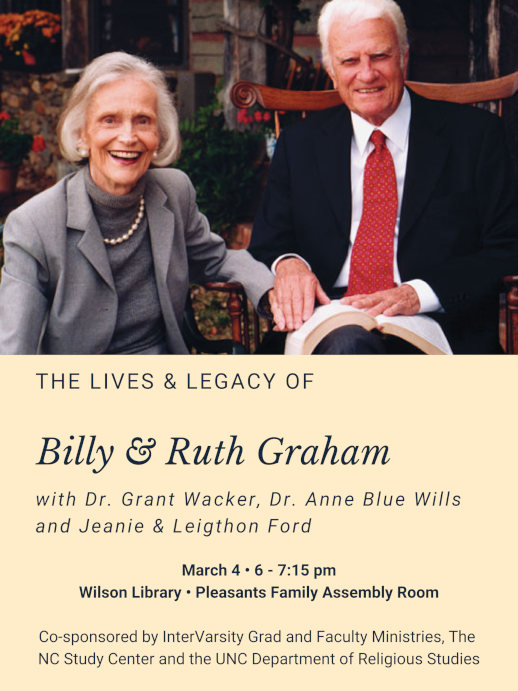 A Common Call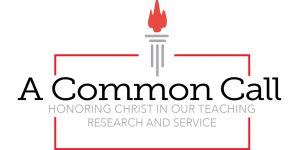 A regional faculty conference Honoring Christ in our Teaching, Research, and Service.  Sponsored by Faculty Commons (a Cru ministry) and the NCSU Christian Faculty/Staff Network.  In Raleigh, Feb 22-23, 2019.
Regional InterVarsity Faculty Conference

You're invited to InterVarsity's Blue Ridge Faculty Conference June 28-July 1, 2018. Join other university faculty from across the region for this opportunity to:
Learn from Christian scholars as they explore living out their faith in the midst of the their academic life.Engage with Francis Su about being salt and light in the academy
Network with fellow Christians across institutional lines.
Step away from the busyness of campus life and enjoy time in the beautiful Blue Ridge Mountains, and families can join in the fun!
Dr. Francis Su, Benediktsson-Karwa Professor of Mathematics at Harvey Mudd College, will be the keynote speaker at the 2018 conference. He is past President of the Mathematical Association of America and was part of InterVarsity's grad student ministry during his doctoral studies at Harvard. Dr. Su is an engaging speaker who takes seriously what it means for Christian academics to offer the hope of the Gospel in his own collegial relationships, to his students, and through his research. He has taken his faith and scholarship public through social media and as a frequent Veritas Forum speaker. He also enjoys hanging out with people, being outdoors, and having fun.
Ken Myers lecture
Public intellectual and Christian thought leader Ken Myers will be visiting UNC and giving a lecture on Monday, Feb. 19th at 7 pm in the Graham Memorial Lounge on "Christ, the University, and the Common Good."  Ken will be exploring what difference the Christian faith makes to the pursuit of education and teaching at a major research university. No RSVP required.
Regional InterVarsity Faculty Conference

From June 29-July 2, 2017, InterVarsity will be hosting the first-ever Blue Ridge Faculty Conference. They are also offering a day-ahead arrival (June 28) for a small, extra fee. This is a great opportunity to enjoy additional unstructured time before the conference officially begins.
You (and your family) can enjoy a retreat in the Blue Ridge Mountains near Asheville, North Carolina with other Christian faculty members from universities across the southeast. We will explore together the unique opportunities and challenges of following Christ in the university. Step away from the daily work of the academy and enjoy time with family, friends, and new acquaintances in the beautiful mountain confines of the
Ridge Haven Conference and Retreat Center
.
The keynote speaker,
Dr. John Inazu
, will share how we can survive and thrive through deep differences. A Professor of Law and Religion at Washington University in St. Louis, John is the author of the book
Confident Pluralism: Surviving and Thriving through Deep Difference
. Dr. Inazu will speak from the content of this book with particular attention to how it relates to the college and university context.
Ratio Christi Annual Symposium
Held in Charlotte on Oct 17-18, 2015 (immediately after the National Conference on Christian Apologetics), this event seeks A Renaissance of Christian Thinking in the University. We want to re-establish a strong and reasoned presence of Christian thinking in academia. Our goal is to place apologetics clubs at all major universities. Situating Ratio Christi chapters at universities around the world is an important step in reversing the skepticism that permeates most educational institutions. We desire to partner in taking back the mind of the University for Christ. By equipping Christian students we believe many students will not only hold onto a faith that they might otherwise abandon, but they will also begin to stand up for Christianity when it comes under fire in the classroom. Furthermore, we want to train students to be conversational evangelists that can in turn train others to defend and proclaim the Gospel. Ratio Christi also provides a safe and charitable venue for atheists, agnostics, skeptics, and adherents to any religion to investigate the claims of Christianity, discuss religious beliefs, and seek truth without fearing reprisal. While this is a distinctly Christian organization, any student is able to become a member and learn, debate, and explore the connection of faith and reason.
UNC Veritas Forum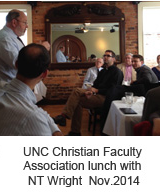 Monday, Nov. 10 at 2pm in Gerrard Hall. featured Dr. N.T. Wright, former Bishop of Durham in the Church of England and current Research Professor of New Testament and Early Christianity at the University of St. Andrews, Scotland. Dr. Molly Worthen of the UNC History Department will conduct a public interview with Dr. Wright. No doubt N.T. Wright is well known to many of you given his outstanding scholarship in New Testament and his important voice for Christian faith worldwide. Here is the website for this event:  http://veritas.org/campuses/university-north-carolina/ and for those of you on Facebook, here is the page:  https://www.facebook.com/events/1476511842623566/?notif_t=plan_user_invited.
The Contemplation of Nature as a Source of Joy
On Oct. 3, 2014 UNC IVCF GFM co-sponsored an event with the Center for Christianity and Scholarship called Night at the Planetarium followed by a lecture on the UNC campus by Dr. Chris Clemens, chair of the UNC Physics Dept. Many of you know Chris and know that he is a thoughtful Christian scholar and lecturer. His lecture, "The Contemplation of Nature as a Source of Joy," drew open his experience as a Christian in astronomy.
Center for Christianity and Scholarship Distinguished Christian Scholar Lecture
Tuesday, September 23rd, 2014 at 7:30 p.m. in the Schiciano Auditorium on
Duke University's West Campus.  Duke alumnus Frederick P. Brooks, Jr. is Kenan Professor in the Department of Computer Science at UNC-Chapel Hill, a department which he founded in 1964 and chaired for twenty years. Prior to coming to UNC, Dr. Brooks worked for nine years with IBM. He was an architect of the IBM Stretch and Harvest supercomputers. He then served as Corporate Project Manager for the IBM System/360, including the development of the System/360 computer family hardware and the Operating System/360 software. At UNC, Dr. Brooks has conducted research in computer architecture, software engineering, and interactive 3-D computer graphics ("virtual reality"). His best-known books are The Mythical Man-Month: Essays on Software Engineering(1975, 1995), Computer Architecture: Concepts and Evolution (with G.A. Blaauw, 1997), and The Design of Design (2010). Dr. Brooks has received the U.S. National Medal of Technology and the A.M. Turing Award of the Association for Computing Machinery, among others. Besides his career as a computer scientist, Dr. Brooks has cultivated an active Christian presence in the university community. Since 1965, he has advised Focus, the graduate chapter of InterVarsity Christian Fellowship at UNC.
UNC Science Expos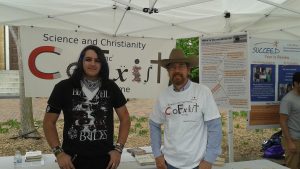 We presented our posters and handed out books and materials at a table-top exhibit at the fifth UNC Science Expo on April 11, 2015 on the campus of UNC Chapel Hill.  This was the second busiest of the expos we've done.  We had lots of good conversations with a visitors from a variety of backgrounds: Christians, agnostics, atheists, scientists, seekers.  For the first time, we ran out of the "Can a Scientist be a Christian?" handouts.
We hosted a table at the 4th UNC Science Expo on April 12, 2014 on UNC Campus.  We presented materials from the What is the Evidence site on how it is possible to be a committed scientist and a committed Christian, and how  both science and Christianity seek truth based on evidence.
We hosted a table at the 3rd UNC Science Expo on April 13, 2013 on UNC Campus.  We presented materials from the What is the Evidence site on how it is possible to be a committed scientist and a committed Christian, and how  both science and Christianity seek truth based on evidence.
Why Business Matters to God
The UNC Christian Faculty Association hosted its third annual CFA dessert lecture on March 29, 2012 at 7PM. Dr. Jeff Van Duzer, Dean for the School of Business at Seattle Pacific University lectured on issues discussed in his book, Why Business Matters to God (and What Still Needs to be Fixed).  The topic was be "God at Work in Our Business: Meaningful Work & Helping Communities Flourish".
The Cultural Consequences of Loving God and our Neighbor
The UNC Christian Faculty Association hosted its second annual CFA dessert lecture on October 13, 2011 at 7PM in the faculty lounge and seminar room in the UNC Kenan-Flagler School of Business' BcColl building.  Ken Myers, directory of Mars Hill Audio Journal, spoke on the topic of "The Cultural Consequences of Loving God and our Neighbor."
"Is There Evidence For God?" Debate
Campus Crusade for Christ at neighboring college NCSU hosted The Great Debate: Is There Evidence For God? on March 30, 2011 at 7PM at the McKimmon Center on the NC State campus.  Dr. Lawrence M. Krauss debated Dr. William Lane Craig.  A recorded video of the event can be watched online by clicking on "Watch Live" on the page at the above link (or you can try the direct link).
How Christian Faculty might Influence the University
The UNC Christian Faculty Association hosted its first annual CFA dessert lecture on March 24, 2011. Dr. Sam Wells, Dean of Duke Chapel, spoke on "How Christian Faculty might Influence the University."